Cheapest dates for tickets Brighton to Dublin
With the calendar below find the best day to get cheap tickets to travel by plane, by train, by coach or by ridesharing.
Best price found for Brighton Dublin flights
Go on holiday to Dublin and find a cheap flight from Brighton to Dublin using our intelligent flights comparison.
To allow you to go on holiday at the best price, we compare the prices of hundreds of flight tickets from major airlines and travel agents. In just one click, you will access all available deals: cheap flights from Brighton to Dublin, low cost flights, last minute flights Brighton to Dublin. With Gopili and its flight comparison tool, you're sure to quickly find the best price for your next journey.
Check the list of the cheapest prices we found for your airline tickets from Brighton to Dublin:
From
To
Price
Departure on
At
Company
Searched
No results found
Other similar routes you may be interested in
A lot of planes fly from Brighton to Dublin, but there are also nearby airports operating the same journeys that you may be interested in:
Practical info about flight Brighton - Dublin
Map of the journey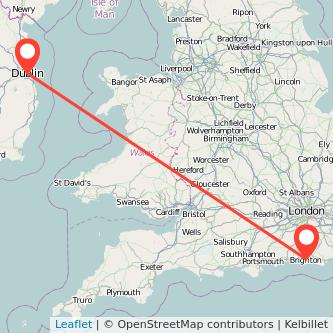 | | |
| --- | --- |
| Flight duration | - |
| Arrival city | Dublin, Ireland |
| Departure city | Brighton, England |
| Airports | |
| Time difference Brighton Dublin | None |
| Distance | 313 Miles |
Travelling by plane is often the fastest way to travel between the two cities. The minimum duration for a flight from Brighton to Dublin is about - for a journey of approximatively 313 miles. In England you can travel from Brighto), and arrive at Dublin in Ireland. Every day, several airlines operate flights from Brighton to Dublin like . The lowest air ticket price we found for your journey is from - for the next 30 days.
Tips to find cheap flights ticket Brighton - Dublin
As you know finding cheap flights from Brighton to Dublin can take a lot of time and be complicated. Here we give you some hints and tips for easily finding cheap air tickets.
Travel with low-cost airlines
EasyJet, Ryanair, Jet2 and Flybe are some of the several low-cost airlines available in Great Britain. They offer you the option to travel from Brighton to Dublin at a inexpensive price by selling inexpensive flight tickets. To enable it, companies propose a lower standard of services on board but you will economize!
Book beforehand
You can purchase your flight ticket several months earlier than the flight departure: generally low-cost carriers propose flight Brighton Dublin for sale three months early. The earlier you buy your ticket more chances you have of obtaining inexpensive flight tickets. By taking a look at flight fares in advance and using our search engine to compare flight fares you will save money and will be able to go from Brighton to Dublin with the cheapest flight ticket.
Travel light
Be attentive when you book your flight ticket. Look at how much luggage you are authorized to bring on the plane, as some companies apply additional charges for excess suitcase and sometimes, on low-cost airlines in particular, you can even be charged for putting a baggage in the hold. So travel as lightly as possible for your Brighton Dublin flights! You are authorized to bring one item of hold luggage (maximum dimensions of 55 cm x 35 cm x 25 cm). In addition to, you can bring with you an accessory: handbag, laptop, strollers, crutches etc.
Be flexible on your departure dates
Often, Brighton Dublin flights during the weekend are more expensive than flights during the week. So to have more chance of booking low price flight tickets it is better if you can be flexible on your travel dates. You will be able to purchase the cheapest price for your next journey.
You will definitely find cheap tickets by following the advices above to help you have a good vacation! Use our search engine to compare airfares and get the cheapest airfares.