Cheap train calendar from Venice to Florence
Find cheapest tickets to travel from Venice to Florence by train, bus, ride sharing and plane. With the calendar below, choose the day you want to travel and easily find the cheapest price.
Find the best prices for train tickets Venice to Florence
Other modes of transport available to travel from Venice to Florence
Coach
Flight
Transport operators from Venice to Florence
The following table lists the various transport operators serving the route Venice to Florence.
Transport operators
Departure
Arrival
No Results Found
Best price found for train ticket from Venice to Florence
We compare train ticket prices for all major companies to travel from Venice to Florence by train and find the best price for you. Here are the best prices selected for the coming days to go to Florence. Your Venice to Florence train ticket is just few clicks away!
From
To
Price
Departure on
At
Company
Searched
No results found
Book cheap train from Venice to Florence
You can buy your Venice to Florence train ticket in 3 different ways:
Purchasing your train tickets online is simple and only takes a few minutes. Almost all train operators give the ability to do it with their website.Tickets are ready to collect at the station only 2 hours after you bought them with the fast ticket machine. Don't forget that you will need the card you paid with and your reference number.
If you would rather have a call with an agent that will help you buy your ticket, you are able to do it with most train operators.
If you need to buy your ticket at the station, you are able to do it either by yourself via the ticket vending machine and with an advisor. You need to be aware that some smaller stations might not benefit from all these services.
If you use our fast and convenient search engine, you will be able to compare hundreds of train fares from all major rail companies. Gopili aims to help you get cheap train tickets from Venice to Florence! For your information, train tickets Florence to Venice are also available for your return train.
How to find cheap train tickets Venice to Florence ?
There are many ways to get cheap train tickets Venice to Florence. If you're following these few tricks, you can most of the time find cheap train tickets for your route.
To travel at the lowest fares you have to book your ticket in advance. A good timing to buy your advance train ticket is approximately 3 months before. Thus you must remember to book abount three months in advance. Thanks to this trick you should benefit from great savings of up to 80%.
In order to get cheap train tickets, you must avoid the busy peak travel times between 06:30 to 09:30 and 15:30 to 18:30. Be flexible and your train ticket Venice to Florence will cost less.
If you already know at what time you want to come back, you should have a look at the price of two single tickets as they may work out cheaper than a return. The only condition is to take the exact train you purchased.
Sometimes, buying a ticket from Venice to an intermediary city and then another ticket from this city to Florence costs less than buying only one ticket for your entire journey. Split-ticketing can help you pay less.
And if you change?
Other alternatives of transport exist to travel from Venice to Florence:
Things to do in Florence
We have created for you a list of 6 places that you can do in Florence.
Museo Galileo

Cappella de' Pazzi

Museo delle porcellane
As travel specialists, we are aware that preparing a trip and searching for all the information about a specific city can be time consuming. We aim to help you by providing some things to do, whether you are visiting for the weekend or for longer.
Every year, many travellers are visiting Florence. If you want explore one of the most famous attraction of the city, you have to visit Galleria degli Uffizi. If you have some time, we will also suggest you to go to Museo Galileo or Officina Profumo - Farmaceutica di Santa Maria Novella to complete your trip.
Another interesting site that you may want to discover is Cappella de' Pazzi if you want to find out more about the city.
Forte di Belvedere is also a place that we will recommend you to see if you got spare time during your stay.
Lastly, if you're still looking to find out more about Florence, Museo delle porcellane can be the last stage of your trip. While visitors may not consider it as the most important place to visit, it will help you get a full picture of the city and its character.
Travel information for your train journey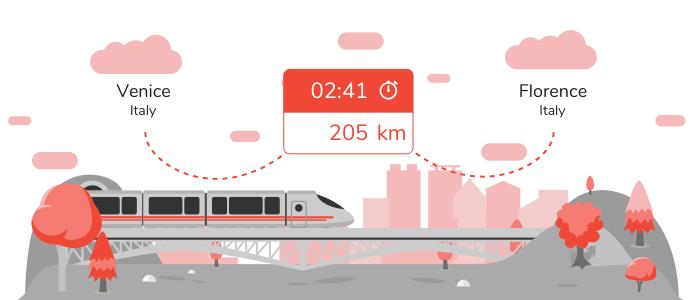 Route Venice to Florence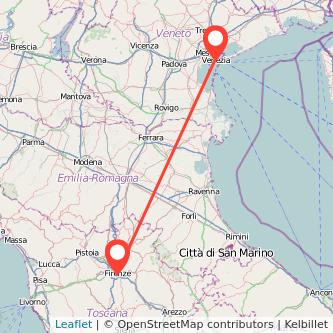 | | |
| --- | --- |
| Train duration | 2h41m |
| Arrival city | Florence, Italy |
| Departure city | Venice, Italy |
| Distance | 127 Miles |
There are several train operators across the country & Europe. By searching for your ticket on gopili, you are able to see the trains connecting Venice in Italy to Florence in Italy as well as the rail operator for this route.
On average, the journey takes approximately 2h41m by train because of the 127 miles to go to Florence from Venice. The journey time can vary depending if your train is direct or with changes.
Depending how far in advance you book your ticket and the travel date, the cost of the ticket may change.
Train ticket types for your travel
Rail tickets may look a bit elaborate at first sight but it's easy to understand how it is working. To begin, there are three main rail tickets types accessible in the England for your train Venice to Florence: Advance, Off-Peak and Anytime tickets.
Advance Ticket : Advance train tickets are a great way to obtain discount train tickets. Advance train tickets are applicable up to 12 weeks before travel and offer the biggest reductions. To take benefit of these tickets you must book ahead: the earlier you buy, the cheaper the train costs are! Advance tickets Venice to Florence are always sold as singles, but if you prefer to book tickets for a return journey, just purchase two Advance tickets. These tickets are only used for the date and train they are booked for. Also, these tickets cannot be refunded but can be amended before departure.
Off-Peak Ticket : If you prefer more flexibility than an Advance train ticket, the Off-Peak rail tickets could be for you. They are flexible and used at "off peak" hours of the day. They are cheaper than the Anytime ticket and still offer the flexibility of travelling on any Off-peak trains. They can be bought any time before travelling, even at the last minute. These tickets are valid at any time of the day on Weekend, and Public Holidays and after around 09:30 on days of the week.
Anytime ticket : They are entirely flexible and they are valid on any train, at any time, on any day. They offer entire security when you can't be sure of your travel times, or if you need to change the day you travel. Anytime train tickets are more high-priced than advance or Off-Peak but they can be refunded.
For your information more ticket types exist in the England to travel to Florence, like Super-Off-Peak tickets, Season tickets, Rover and Rangers tickets…