Travel with National Express coaches

National Express
The coach company National Express is the reference to travel by bus to over 1,000 destinations throughout the United Kingdom including London, Birmingham, Manchester, Liverpool… Equipped with Wi-Fi, power sockets and reclining seats, the company offers a high level of services for travellers. Every day National Express offers cheap coach tickets and discount cards to travel for even less.
National Express history
National Express coach company is a subsidiary of National Express Group, which operates bus, coach and rail services in the United Kingdom, North America, Germany, Spain and Morocco. The coach company National Express operates intercity journeys in England, Wales and Scotland.
Launch in 1972, National Express coach carries over 21 million passenger journey every year across around 1,000 destinations in the United Kingdom. The historic national bus company offers also airport transfers by coaches including London airports Heathrow, Gatwick, Stansted, Luton…
In August 1989, Eurolines UK became a part of the company allowing international trips between the United Kingdom and European cities, allowing you to reach Paris, Amsterdam, Brussels by bus.
If you are looking to visit your family or friends during the holidays, National Express coaches can get you where you need to be thanks to their 550 coaches covering 72 million miles per year.
National Express best fares
If you're looking for cheap National Express tickets, you've come to the right place. Everyday many National Express coaches are running throughout the UK, below are the best coach ticket prices we have found for the coming days.
From
To
Price
Departure on
At
Company
Searched
No results found
National Express destinations
Every day, National Express connects cities from England, Wales and Scotland. In addition, shuttle services between the airport and the cities are also available.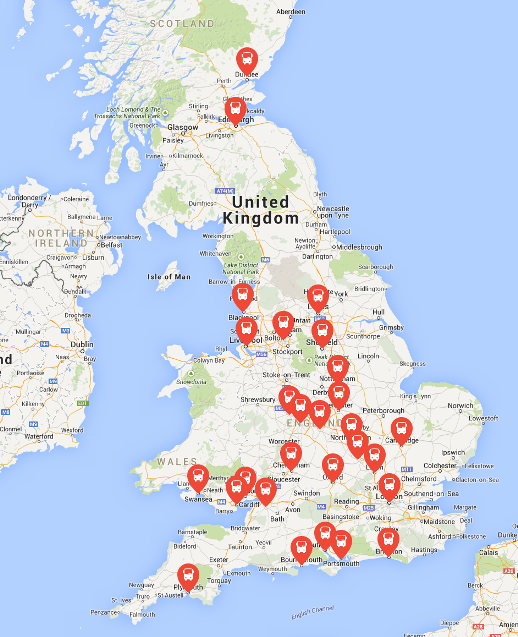 Main National Express destinations
Main cities served by National express coaches are:
London
Dundee
Coventry
Birmingham
Luton
Manchester
Cardiff
Liverpool
Southampton
Bristol
Nottingham
Leeds
Leicester
Bournemouth
Cambridge
Brighton
Swansea
Milton Keynes
Northampton
Plymouth
Sheffield
Oxford
Newport
Portsmouth
Edinburgh
Wolverhampton
Cheltenham
Blackpool
National Express services
National Express coaches offer a great range of services. Discover all general information about the services available on board for your next bus journey.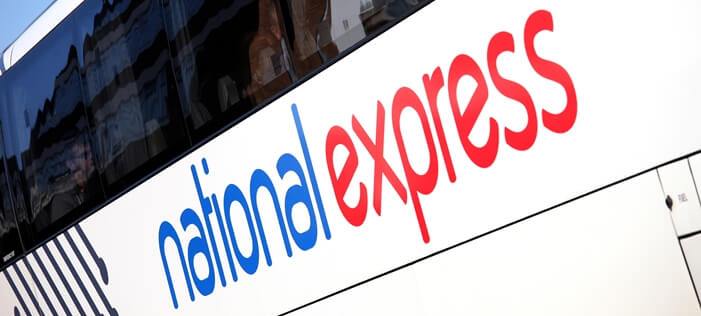 Services available on board
In recent years, National Express has made significant changes to its coaches to make them more comfortable for passengers. Coaches are fitted with reclining comfortable seats, setback tables, power sockets and ample leg room. Wi-Fi is available on board for some journeys, so you can use your laptop and tablet during your travel!
National Express Coach Tracker
National Express has created a tool allowing you to track your bus online in real time and anywhere. Before travelling you can check if your coach is on time, so that you will be aware of any delays. You can view your bus on a map during your travel, so you are kept fully up-to-date on your journey's progress.
Coach stations facilities
The coach company have equipped their stations to give you the best facilities and comfortable seats before departure. Most stations have a customer service desk to inform you about your travel or to book a journey or to amend a ticket. You will have access to free Wi-Fi and have the possibility to charge your phone. There is a shopping area where you can buy food, drinks, newspapers, magazines and books for your journey.
National Express App
With the National Express app, available for your phone you can easily book your coach tickets and view live departure and arrival times for coaches in the UK.
Luggage allowance
National Express allows passengers to bring two pieces of luggage with a maximum weight of 20 kg and one piece of hand luggage. If you want to bring more luggage additional fee will be apply.
1 bag
Extra bags
Up to three bags
One-Way

£8

£10

each bag

£16

Return

£12

£15

each bag

£24
Fares observed on 14/10/2014
For your information, pets are not allowed on National Express coaches except for guide or assistance dogs.
National Express timetable
Every day, National Express coaches run across England, Wales and Scotland. You can find all the information you want about timetables directly on the National Express website.
National Express fare types
The coach company offers several bus tickets types to travel across the UK. National Express Funfare tickets are the cheapest ticket offered by the company. Funfare tickets are only available when you book online in advance: prices goes up when the day of departure get closer. These cheap bus tickets are sold in limited amounts so when they are available online you must be quick.
The company offers best prices for people who travel in groups. National Express offers discounts for those travelling in a group by coach. You can save 25% on standard fares if you travel in a group of four or more. To take advantage of this offer, simply book your seats at least three days in advance.
To get the best National Express fare the company advises you to:
Think ahead and book your bus ticket well in advance
Travel during off-peak period as tickets are usually cheaper
Be flexible with dates and times
National Express Coachcards
National Express offers funfares, reductions, discounts, and more! Travel for even less in the United Kingdom with a coachcard or a pass offered by the company.
Save 1/3 on standard fares for one year by buying a £10*discount card. National Express offers three different cards:
Young Person Coachcard:

discount card for people aged 16-26 years or full-time students

Senior Coachcard:

discount card for people aged 60 and over

Disabled Coachcard:

discount card for people with disabilities
Are you travelling as a family? Buy one of the two Family Coachcards and save money on your coach tickets:
Family 1plus1 Coachcard costs £8 for 1 year*:

a child can travel free when with a full fare paying adult

Family 2plus2 Coachcard costs £16 for 1 year*:

two children can travel free when with two full fares paying adults
Do you want to discover the United Kingdom? With one of the Brit Xplorer passes you can go where you want at a low price:
Hobo:

7 days for £79*

Footloose:

14 j days for £139*

Rolling Stone:

28 days for £219*
*Fares and discounts observed on 14/10/2014
Barometer of National Express ticket fares
The prices offered by National Express can change over time. Here is a price barometer for the main coach journeys indicating the minimum price observed and the maximum price for a single ticket.
National Express Destinations
Fare observed
London to Manchester
From

£5.49

to

£91.70

London to Birmingham
From

£5.49

to

£53.91

London to Bristol
From

£4.49

to

£36.17

London to Leeds
From

£7.99

to

£59.00

London to Edinburgh
From

£13.99

to

£91.80

London to Glasgow
From

£13.00

to

£80.20

London to Newcastle upon Tyne
From

£11.49

to

£71.98

London to Liverpool
From

£8.99

to

£117.50

Manchester to Birmingham
From

£3.99

to

£33.38

Newcastle upon Tyne to Manchester
From

£11.28

to

£35.31
National express fares observed from the last 6 months
National Express booking
There are three ways to book National Express tickets. Coach Tickets can be purchased online (£1 booking fee), by telephone (£2 booking fee) or in an agency. Tickets can also be purchased when boarding the bus from the driver: he will only accept cash. Note that tickets are not refundable and each ticket has specific "terms and conditions".
The different steps to book a National Express ticket online:
Select your departure station and your arrival station for the date of your choice
Select the coach ticket you want
Enter your details and make online payment
Once you have purchased the ticket, you will receive a confirmation of your booking by email
You can choose 4 modes to receive your tickets:

E-ticket:

Print your ticket

M-ticket:

Receive your ticket on your mobile (50p + charges)

Collection:

Get your ticket to an agency (50p + charges)

Post:

Receive your ticket by post (+ £1.50 charge)

National Express asks their passengers to arrive at least 10 minutes before departure for boarding
Once check in is completed, you can go to your seat and enjoy your trip!
Last National Express ticket searches
Here are the last National Express ticket searches done on Gopili:
research coach London Bath 30 November 2023

2 coach offers from £35.94 to £40.80 (Found on 30/11/2023)

research coach Weston-super-Mare Taunton 1 December 2023

3 coach offers from £8.19 to £14.45 (Found on 30/11/2023)

research coach Southampton Nottingham 3 December 2023

18 coach offers from £43.11 to £45.54 (Found on 30/11/2023)

research coach Dover Manchester 2 December 2023

6 coach offers from £20.92 to £34.33 (Found on 30/11/2023)

research coach Plymouth Torquay 1 December 2023

5 coach offers from £7.97 to £14.10 (Found on 30/11/2023)

research coach London Slough 2 December 2023

97 coach offers from £4.05 to £23.69 (Found on 30/11/2023)

research coach Bristol Glasgow 29 December 2023

15 coach offers from £24.84 to £61.23 (Found on 30/11/2023)

research coach Leeds Liverpool 2 December 2023

66 coach offers from £10.38 to £18.84 (Found on 30/11/2023)

research coach London Paignton 1 December 2023

42 coach offers from £18.95 to £60.21 (Found on 29/11/2023)

research coach Birmingham Stevenage 8 December 2023

3 coach offers from £11.53 to £16.16 (Found on 29/11/2023)