How to get to Stansted airport
All you need to know to get to Stansted
Getting to Stansted airport could be challenging and stressful. There are many options for your journey, we've listed them to help you to get to Stansted Airport, easy peasy!
Where is Stansted Airport?
London Stansted airport is situated some 39 miles away from the city center of London. 4 Stansted Airport transfers are available: bus, shuttle, train and taxi, depending on your needs.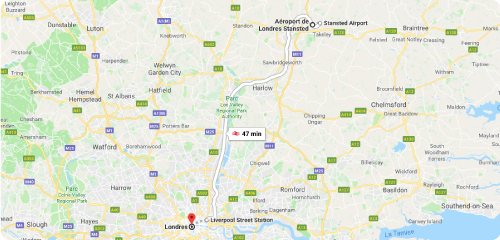 When and where can I buy my tickets to reach the Airport?
We recommend you to book your tickets online, in advance, as fares may be more expensive when buying them pre-departure at the station.
Can I get to the Airport by night?
We suggest to use taxi or Uber services to travel to Stansted as they operate 24/7. Trains and buses operate less frequently at night.
What about the return journey?
Booking a return ticket for train and bus services is often cheaper than two single ones. You can save up to 25% on your journey.
How long in advance do I have to travel to the Airport?
We recommend you to travel to Stansted 3 hours in advance to get the time to check-in stress-free.
What if my flight is canceled or rescheduled?
Some bus companies like Terravision and National Express give you the possibility to modify in advance your departure time.
Are there special fares for children?
Most often, children under two can travel for free. Check out the cheapest ticket options when travelling with your family.
Choose the cheapest option depending if you're travelling alone or with friends and relatives
Travelling alone?
Bus is the cheapest choice.
Travelling with your partner?
Train and Bus are the best option.
Travelling with friends?
Taxi or Uber will be the best option.
Train to Stansted airport
Stansted Airport has its own train station that connects Central London to Stansted.

Stansted Express provides the rail service (to and) from London Liverpool Street Station so you can reach the airport in only 47 minutes. Trains leave every 15 minutes and the average price for a ticket is £7 per person. Find out more on the different options and services for the trains to Stansted.
Bus to Stansted airport
Different bus and coach services are available for you to get to Stansted airport

National Express buses to the airport operate from 18 London coach stations, with prices starting from only £5.
Leaving every 20 minutes, the fastest journey time to go to Stansted Airport is 45 minutes.
Travelling to airports with Terravision, you can leave from 4 different London coach stations, with departures every 30 minutes. The estimate journey time to get to Stansted Coach Station is 75 minutes and tickets cost £9 (one way).

Getting to Stansted Airport with Easybus can enable you to travel from only £2. Departing every 15-20 minutes, you can reach the airport in 90 minutes.
Taxi to Stansted airport
Getting to Stansted leaving directly from your accomodation via London airport taxi services.

Stansted airport transfer services are available 24 hours a day, from £60 when leaving from Central London. You can get to the airport in approximately 60 minutes depending on your pick up location.

Uber is another solution for London Stansted airport transport that gives you the opportunity to plan your journey directly with your driver. Fares will start from £43.
Find out more info on travelling by taxi to Stansted including the different companies and numbers to reach them.
Driving to Stansted airport
The average journey time to travel by car to Stansted Airport from the city center is 1h, but where can you park your car?

If you are planning to use your car, Stansted parking provides different parking options. If you're planning to drop off friends or relatives, you can do it for free, at the Express Set Down. To get info on fares and services for longer stay, find out more on the Stansted car parking.
*All the fares and discounts have been observed on 30/11/2017