Prices calendar bus from London to Oxford
Find the cheapest tickets to travel from London to Oxford by coach, train, carsharing and flights. With the calendar below, choose the day you want to travel and easily find the best price for your next travel.
Best prices for bus tickets London to Oxford
from £17

.00

MORE

2h02m
from £1

.50

MORE

1h53m
Other modes of transport available to travel from London to Oxford
Train
Things to do in Oxford
Discover the best of Oxford by visiting these 6 locations
Oxford University Museum of Natural History

Bodleian Library Ticket office

Magdalen College
Sheldonian Theatre

Modern Art Oxford

Oxford Castle
Preparing a trip when travelling to a new city can be time consuming. We would like to provide you with some popular places that you can visit, whether you are visiting for a weekend getaway or holidays. Depending on your areas of interest, you should then be able to make your own plan and decide whether you wish to go to all of these places or only some of them.
One of the most essential place of Oxford is Oxford University Museum of Natural History. If you only have the time to visit one place, you should choose this one. We will also advise you to visit Sheldonian Theatre or Bodleian Library Ticket office which are also famous and great for visitors. If you have more time, Oxford is also a great starting place to explore South East England.
You might also continue your itinerary with Modern Art Oxford which is another way to explore the city.
If you still got enough time, you should visit the Magdalen College which is also appreciated by travellers.
Our last advice if you would like to have a complete view of the city will be the Oxford Castle. Remember to check out the events, festivals or concerts that you can attend during your stay as it should help you meet locals who might be able to share with you further advices.
Route information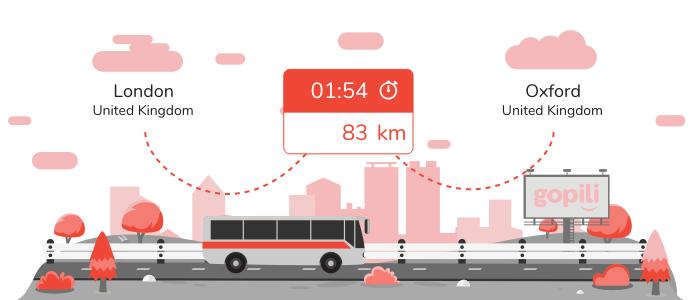 Bus journey London to Oxford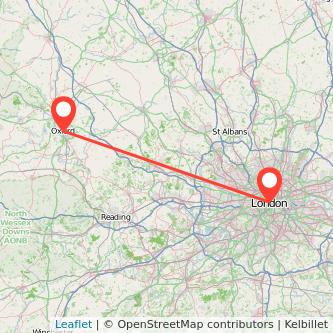 Bus Time

1h54m

Origin
London, England
Destination
Oxford, England
Distance

52 Miles

Cheapest bus ticket fare:
from £83

.00

Bus operators:
National Express, Megabus
National Express, Megabus are the 2 coach companies providing bus tickets from London (England) to Oxford (England).
The starting price found to travel in the next 30 days for your coach is £1.50. This fare, based on a standard ticket without a coachcard, can vary depending when you want to travel and how much time in advance you buy your journey to Oxford from London.
The bus duration can vary depending on the operator but buses take on average 1h54m to cover the 52 miles. Taking the bus from London to Oxford takes more time than other modes of transport but you should make savings.
Coach stations to travel between London and Oxford
To travel from London to Oxford, only one coach station is available for your departure: this is the London Victoria bus station. Oxford city has several stations available for your arrival:Oxford Gloucester Green bus station, Oxford Beaumont Street bus station, Oxford St Giles bus station.
Best price found for bus from London to Oxford
Gopili compares prices to find you cheap bus tickets from London to Oxford. Here are the best prices selected for the coming days. You can also have a look at the prices for the Oxford London bus to make sure you get a seat for your return journey.
Journey
Price
Departure on
At
Company
Searched
London
Oxford
£1

.50

05/06/2017
15:20
Megabus
1 day ago
London
Oxford
£1

.50

05/06/2017
20:35
Megabus
1 day ago
London
Oxford
£1

.50

29/05/2017
02:25
Megabus
3 days ago
London
Oxford
£1

.50

15/06/2017
18:36
Megabus
3 days ago
London
Oxford
£1

.50

29/05/2017
14:25
Megabus
5 days ago
London
Oxford
£1

.50

27/05/2017
19:49
Megabus
4 days ago
London
Oxford
£1

.50

27/05/2017
22:40
Megabus
4 days ago
London
Oxford
£1

.50

14/06/2017
17:40
Megabus
5 days ago
London
Oxford
£1

.50

01/06/2017
15:55
Megabus
3 days ago
London
Oxford
£1

.50

01/06/2017
19:55
Megabus
3 days ago
Best price found for London to Oxford bus tickets for the next 30 days.
Bus times from London to Oxford
Every day many National Express coaches travel from London to Oxford: you can check coach timetables for your next journey on the National Express website.
Megabus coaches often make the connection between the two cities. You can find Megabus coaches departure times directly on the Megabus website.
Next bus departures
Leaving today? Here are the next bus services to Oxford
The table above only shows the remaining services for today and will display a maximum of 10 bus departures.
See all departures: Today / Tomorrow
Best time to book
Cost of a bus London to Oxford depending on when you book your ticket
Days before Departure
By gathering the offers from the last 6 months, we can identify the best time to purchase your bus. While for many bus services, puchasing your ticket in advance enables you to pay less, there is no need to do so if you wish to take a coach from London to Oxford.
Based on our data, you might even wait a little further as the right time to book is 1 month in advance with tickets starting from £2. It is 94% cheaper than getting your seat 2 months in advance which will cost you a minimum of £25.
Discount coach London to Oxford
National Express discounts London to Oxford
If you plan to travel from London to Oxford by coach using National Express, many opportunities are available to save money on you journey. By buying your ticket at least three days before departure, you will have access to the Funfare tickets which are the cheapest tickets available.
National Express operates bus services to over 1,000 destinations throughout the UK, including Oxford from London. As a consequence, we recommend you to get a National Express coachcard if you plan to travel a few times by coach throughout the year.
Depending on your age and situation, you are able to get a Young Persons discount card, a Senior discount card or the Disabled coachcard. Each costs £10* per year and enables you to save a third on coach fares whenever you travel.
National Express also offers Family Discount cards which enable your children to travel for free as long as they are with an adult with a full fare ticket. The Family Coachcards cost £8* per year for 1 adult and a child or £16* a year for two adults and two children.
Willing to travel for a couple of days? The Brit Xplorer passes allow you to travel for free across the UK for a fixed price: Hobo pass (£79* for 7 days), Footloose pass (£139* for 14 days) and RollingStone pass (£219* for 28 days).
*Fares and discounts observed on 03/02/2017
Discounts Megabus London to Oxford
Travelling from London to Oxford with the budget bus operator Megabus can help you make savings. You are able to get cheap London Oxford bus tickets as fares start from £1 + a 50p* booking fee! These fares are limited that's why we recommend you to book your cheap ticket in advance.
*Fares and discounts observed on 03/02/2017
Book a coach from London to Oxford
To purchase your London to Oxford bus ticket, you can consult the following coach companies' websites that offer bus tickets between London to Oxford:

National Express
National Express, the reference of coach trips, offers London to Oxford bus tickets from £17. Note that the earlier you book your ticket from London to Oxford, the more likely you are to find cheap tickets.

Megabus
Megabus, the low-cost coach company in UK, serves London to Oxford by bus at low prices, from £2. The company regularly offers discounts to its passenger and prices from £1 to travel by coach.
Travel information for your bus from London to Oxford
Bus routes are well popular in the United Kingdom: each year over 30 million persons choose this option for their vacations and to visit family and friends. Operators propose interesting prices, generally cheaper than train fares or plane fares. However persons must be patient because bus journeys are more time-consuming. For example the average journey duration for bus from London to Oxford is 1h54m.
Travelling by bus is more time consuming than a trip by train yet nowadays carriers offer more and more high quality service on buses. Many coaches are equipped with agreeable seats, toilets, plug sockets and air conditioning. On some journeys, Wi-Fi is available allowing you to utilize your computer and tablet during your trip.
For the purpose of offer a punctual service bus operators like National Express, Megabus require passengers to check in at least 30 minutes before bus departure. Customers should have their identity documents and other travel documents as coach ticket to be ready for control at check-in. Do not forget that for your next trip by bus from London to Oxford, 15 minutes before, boarding is anymore assured.
Customers travelling by coach to Oxford are authorized to bring up to three luggage per person. Usually operators don't mind what your luggage is packed in: they ask travelers that it's no bigger than a standard large suitcase and weight until 20kg. You are authorized to also bring a piece of small hand luggage on the bus with you!
If you have to cancel your London Oxford bus journey or if you wish insurance for your luggage or be repatriated during your next coach bus, look for information about the National Express, Megabus insurance for your journey from London to Oxford online directly on the website of the carriers.
Other transport alternatives
There are alternative transport methods to coach for travelling between London and Oxford: