Paris - Birmingham bus information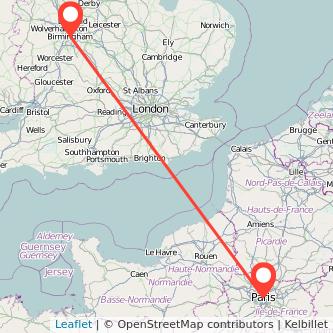 Bus Time

13h35m

Origin
Paris, France
Destination
Birmingham, England
Distance

312 Miles

Cheapest bus fare:
from £29

.99

Bus operators:
OUIBUS
Which bus operators should I use?
All buses operating from Paris (France) to Birmingham (England) are run by OUIBUS.
What is the price of a bus ticket for this journey?
Our travel data show that for the next 180 days, and based on a standard ticket without a coachcard, the cheapest fare across the different operators to take the bus from Paris to Birmingham is from €29.99.
How long does it take?
Although travelling by bus is most of the time cheaper, it is longer. As a matter of fact, the average journey time for buses between Paris and Birmingham is 13h35m covering a distance of approximately 312 miles.
Best prices for bus tickets Paris - Birmingham
Other modes of transport available
Train
Flights
Prices calendar to travel between Paris and Birmingham
Find the cheapest tickets to travel from Paris to Birmingham by coach, train, carsharing and flights.
Bus times Paris - Birmingham
Leaving today? Find the next coach services to Birmingham
Departure
Arrival
Duration
Company
Today
There are no more services available today.
Tomorrow
Paris City Centre - Bercy Seine


21:00

Birmingham - Coach Station


09:35

13h35m
OUIBUS
The table above only shows the remaining services for today and will display a maximum of 10 bus departures.
See all departures: Today / Tomorrow
Best prices for your coach from Paris to Birmingham
Gopili compares prices to help you find cheap bus tickets from Paris to Birmingham for the coming days. You can also have a look at the prices for the Birmingham Paris bus to make sure you get a seat for your return journey.
From
To
Price
Departure on
At
Company
Searched
Paris


City Centre - Bercy Seine

Birmingham


- Coach Station

£29

.99

13/12/2019
21:00
OUIBUS
29 days ago
Best prices found for the next 180 days.