Cheap train calendar from Amsterdam to London
Find cheapest tickets to travel from Amsterdam to London by train, bus, ride sharing and plane. With the calendar below, choose the day you want to travel and easily find the cheapest price.
Find the best prices for train tickets Amsterdam to London
Other modes of transport available to travel from Amsterdam to London
Coach
from £18

.00

MORE

13h44m
from €25

.00

MORE

13h30m
from €19

.00

MORE

10h17m
Flight
Transport operators from Amsterdam to London
The following table lists the various transport operators serving the route Amsterdam to London.
Transport operators
Departure
Arrival
No Results Found
Different train ticket types for your journey
There are several types of rail tickets Amsterdam to London offered by each company, allowing passengers to choose between flexibility and price. Travellers can book tickets on the website of the railway companies or on train ticket sales websites being accredited. Here is a description of each kind of rail ticket:
The Advance Tickets are tickets for single journeys, valid in 1st and 2nd class. They can be purchased 12 weeks in advance, indeed they are sold in limited numbers and are subject to availability. Usually, the earlier you purchase them, the cheaper the fare is. You should be aware that the Advance ticket is non-refundable. However, you can change the hours and the date of the journey before departure.
The Off-Peak Tickets are the lowest tickets to travel in less occupied trains. Offering a good quality-price ratio, these tickets need passengers to travel off-peak. You can book tickets at any time, in advance or just before the trip. The rail ticket is refundable but administrative fees may be charged; these fees can't be superior to £10.00.
The Anytime Tickets are entirely flexible: you can travel whenever you want. Tickets can be purchased in advance or immediately before travel. There are no conditions on when you want to travel, nevertheless you will need to buy a new ticket if you want to modify the date, destination or class.
You can also buy a Season Ticket for 7 days or a period of either 1 month or 1 year. Normally these tickets are available for short and medium distances in the England.
The last Rovers and Rangers ticket type allows you unlimited travel for an area and time period with all train companies.
Best price found for train ticket from Amsterdam to London
We compare train ticket prices for all major companies to travel from Amsterdam to London by train and find the best price for you. Here are the best prices selected for the coming days to go to London. Your Amsterdam to London train ticket is just few clicks away!
Journey
Price
Departure on
At
Company
Searched
No results found
Amsterdam - London: the best time to book cheap trains
Cost of the train when booking in advance or at the last minute
Days before Departure
The Prices for train tickets Amsterdam to London tend to increase as the date gets closer. If we look at our data, if you purchase your seat 3 months in advance, the price of the ticket starts at £90 whereas if buying your ticket on the day you're travelling, you will need to spend a minimum of £257 for your train. Thus, you will save 65% on the cost of your ticket by buying your ticket 3 months in advance instead of on the day you're travelling.
The figures are based on the best prices found in the last six months when buying in advance or at the last minute.
Things to do in London
We have compiled for you a list of 6 places that you can visit in London.
Westminster Abbey

London Eye

Tower of London
Buckingham Palace

Kensington Palace

View from the Shard
As travel experts, we understand that preparing a trip and finding all the information about a specific destination can last for hours. We would like to help you by recommending some points of interests, whether you are visiting for a short break or for holidays.
Each year, many visitors are going to London. If you want visit one of the most famous place of the city, you have to go to Westminster Abbey. If you have the time, we will also suggest you to visit Buckingham Palace or London Eye to complete your trip.
Another interesting place that you may want to visit is Kensington Palace if you wish to know more about the city.
Tower of London is also a touristic site that we will advise you to see if you got spare time during your trip.
Lastly, if you're still looking to discover more about London, View from the Shard can be the final stage of your stay. While visitors may not consider it as the most interesting place to visit, it will help you get a complete view of the city and its character.
Proximity journey
Many trains run from Amsterdam to London, but there are also near stations served like for instance:
Travel information for your train journey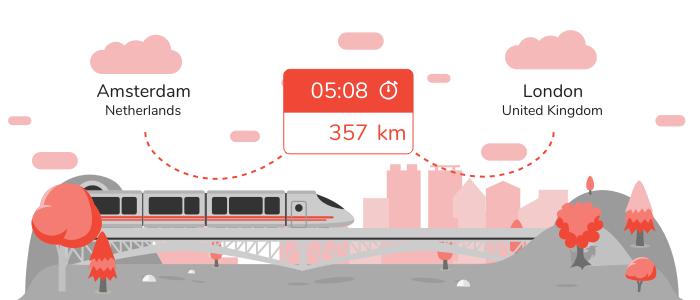 Route Amsterdam to London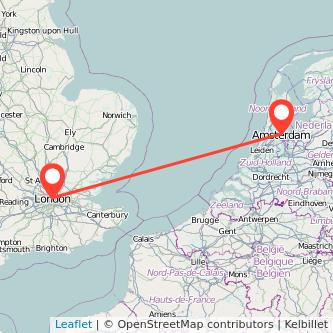 Train duration

5h08m

Arrival city
London, England
Departure city
Amsterdam, Netherlands
Distance

222 Miles

Lowest train ticket price
from £93

.00
Which operators can I use?
There are many rail providers across the United Kingdom & Europe. By searching for your ticket on gopili, you will be able to see the trains from Amsterdam in Netherlands to London in England as well as the train operator for this journey.
How far is it by train?
Using the train is a fast and simple option to go to London from Amsterdam. The average travel duration from Amsterdam to London is 5h08m to travel the 222 miles.
How much does it costs?
We found trains from £93.00 to travel in the next month. Fares may vary depending on the day and hour of travel or how far in advance you buy your ticket.
How to find cheap train tickets Amsterdam to London ?
Finding cheap train tickets can be difficult as train travel can be expensive. So we decided to share our tips to find cheap train tickets Amsterdam to London.
Getting your ticket in advance rather than leaving it until the day before will help you to get a lower fare. Advance tickets typically go on sale 12 weeks prior the date of departure. On many routes you can save as much as 80% by buying your ticket 90 days in advance. We suggest you to get your ticket as soon as you can.
You will also find that, the most affordable time to travel is outside the peak times, which are between 06:30 to 9:30 and 15:30 to 18:30. Thus, try to avoid travelling during rush hours and you should spend less on your train ticket Amsterdam to London.
If you already know at what time you need to take the return journey, you need to verify the price of 2 singles as they may work out cheaper than a return. The only rule is to get the exact train you booked.
Sometimes, booking a ticket from Amsterdam to an intermediary city and then a second ticket from this city to London costs less than getting a single ticket for your entire journey. Split-ticketing can help you pay less.
And if you change?
Other alternatives of transport exist to travel from Amsterdam to London:
Book cheap train from Amsterdam to London
Amsterdam to London train ticket can be bought using different options:
You are able to purchase tickets online directly on the train operators' websites such as Eurostar, Southern, East Midlands Trains, Arriva Trains. You can also buy train tickets on Ticket Retailers' websites including Redspottedhanky or Raileasy.
If you would like a call with an agent that will help you buy your ticket, you can do it with most train companies.
If you prefer to purchase your ticket at the station, you are able to do it either by yourself via the ticket vending machine and with an agent. You need to be aware that some smaller stations might not provide all these services.
Gopili helps you find cheap train tickets from Amsterdam to London by comparing journey times and prices across all rail operators. You can also sort the results by price, duration, departure time to find the ticket that suits your needs. Need to find the best price for the way back? Check the prices of train tickets London to Amsterdam via our travel search engine and get the best deal.