Cheap train calendar from Lille to London
Find cheapest tickets to travel from Lille to London by train, bus, ride sharing and plane. With the calendar below, choose the day you want to travel and easily find the cheapest price.
Find the best prices for train tickets Lille to London
from €56

.00

MORE

1h31m
from £49

.00

MORE

1h38m
Other modes of transport available to travel from Lille to London
Coach
from £17

.00

MORE

5h40m
from €17

.00

MORE

9h21m
from €18

.00

MORE

5h49m
Flight
Next train departures
When are the next trains to London?
The table above only shows the remaining services for today and will display a maximum of 10 train departures.
See all departures: Today / Tomorrow
Best price found for train ticket from Lille to London
We compare train ticket prices for all major companies to travel from Lille to London by train and find the best price for you. Here are the best prices selected for the coming days to go to London. Your Lille to London train ticket is just few clicks away!
Journey
Price
Departure on
At
Company
Searched
Lille
London
£49

.00

31/05/2017
11:35
Eurostar
7 days ago
Lille
London
£58

.50

31/05/2017
08:35
Eurostar
7 days ago
Lille
London
£58

.50

31/05/2017
09:30
Eurostar
7 days ago
Lille
London
£73

.50

31/05/2017
20:30
Eurostar
7 days ago
Lille
London
£73

.50

31/05/2017
19:35
Eurostar
7 days ago
Lille
London
€84

.00

26/05/2017
20:30
Eurostar
4 days ago
Lille
London
€84

.00

25/05/2017
20:30
Eurostar
6 days ago
Lille
London
€84

.00

26/05/2017
19:35
Eurostar
4 days ago
Lille
London
€84

.00

27/05/2017
17:35
Eurostar
1 day ago
Lille
London
€101

.00

29/05/2017
09:30
Eurostar
1 day ago
Best price found for Lille to London train ticket for the next 30 days.
Transport operators from Lille to London
The following table lists the various transport operators serving the route Lille to London.
| Transport operators | Departure | Arrival |
| --- | --- | --- |
| Eurostar | Lille | London |
| TGV | Lille | London |
Where to find cheap train tickets
Eurostar
Gopili compares ticket prices for you every day from all operators to help you find cheap train tickets for your next trip. The best Eurostar price found was £49.
TGV
TGV, the rail travel company, runs between Lille and London from £141, allowing you to travel without breaking the bank.
And if you change?
Other alternatives of transport exist to travel from Lille to London:
Book cheap train from Lille to London
There are different ways to book your Lille to London train ticket:
How can I book a train ticket online?
Purchasing your train tickets online is easy and only takes a few minutes. Most rail companies give the ability to do it via their website.Tickets will be ready to collect at the station in as little as 2 hours after you purchased them with the self-service ticket machine. Don't forget that you will need the card you paid with in complement of your reference number.
Can I book over the phone?
Most rail companies as well as several train ticket retailers will have telephone numbers and you can make your booking by phone.
Can I book my ticket at the station?
While the mainline stations in the UK have a self-service ticket machine and a travel centre to get your train ticket, suburban stations may not. Look at the office hours and the available services before you travel.
The easiest way to find cheap train tickets from Lille to London is to check online the fares from all train providers. Gopili enables you to do so by comparing in one search journey times and fares across all existing offers. If you need to travel back to Lille later on, train tickets London to Lille are also available on gopili.
How to find cheap train tickets Lille to London ?
If you're searching for cheap train tickets Lille to London, we're here to help. Here we share with you some tricks to find cheap train tickets.
How long in advance should I book my ticket?
The earlier you book the cheaper it gets. You may save up to 80% on your train ticket by booking 12 weeks before the date of departure. Why? Because train providers tend to release advance tickets up to 90 days in advance and it is usually at this time that you will get the cheapest price.
When is the cheapest time of the day to travel?
If you want to get cheap train tickets, you have to avoid the peak train times between 06:30 to 09:30 and 15:30 to 18:30. Be flexible and your train ticket Lille to London will cost less.
Is it cheaper to book two single tickets or a return?
It's very common that two singles are cheaper than a return ticket, we suggest you should consider checking both tickets for your travel if you want to pay less.
What are split tickets?
Splitting your ticket for your journey to London is another way to pay less. It is completely legal to split your ticket into 2 or more tickets covering the different stages of your journey, as long as the train you're in stops at the stations you've bought your tickets from.
Things to do in London
We have selected for you a list of 6 points of interests that you can do in London.
London Eye

Buckingham Palace

National Gallery
Tower Bridge

Tate Modern

British Museum
If you're visiting London for the first time and you do not have a clear idea of the things that you can visit during your stay, we're here to help. Your itinerary will obviously depend of the length of your stay as well as your preferences but the team at Gopili provides you with the famous areas in London.
London Eye is probably among the most interesting attractions for visitors. You can also plan to visit Tower Bridge or Buckingham Palace which are most of the time recommended by the people who have already visited the city.
Another noteworthy place that you may want to discover is Tate Modern if you want to know more about the city.
National Gallery is also a place that we will recommend you to see if you got spare time during your trip.
Lastly, if you're still looking to discover more about London, British Museum can be the final step of your visit. While travellers may not consider it as the most interesting place to visit, it will enable you to get a complete view of the city and its history.
Proximity journey
Many trains run from Lille to London, but there are also near stations served like for instance:
Train ticket types for your travel
Train tickets may look a bit complex at first sight but it's simple to understand how it is working. To start, there are three main rail tickets types applicable in the England for your train Lille to London: Advance, Off-Peak and Anytime tickets.
Advance Ticket : They are a great way to get very cheap train tickets. They are applicable up to 12 weeks before travel and offer the biggest reductions. To take benefit of these tickets you must book in advance: the earlier you book, the cheaper the train prices are! Advance tickets Lille to London are constantly sold as singles, but if you want to book tickets for a return journey, just book two Advance tickets. These tickets are only used for the date and train they are booked for. Also, these tickets cannot be refunded but can be amended before departure.
Off-Peak Ticket : If you need more flexibility than an Advance train ticket, the Off-Peak train tickets could be for you. Off-Peak train tickets are flexible and used at "off peak" hours of the day. These tickets are cheaper than the Anytime ticket and still provide the flexibility of travelling on any Off-peak trains. They can be bought any time before travelling, even at the last minute. They are used at any time of the day on Saturdays, Sundays, and Public Holidays and after around 09:30 on Mondays to Fridays.
Anytime ticket : These tickets are entirely flexible and they can be utilized on any train, at any time, on any day. They give complete security when you can't be certain of your travel times, or if you need to change the day you go. They are more high-priced than advance or Off-Peak but they can be refunded.
For your information more ticket types exist in the UK to travel to London, like Super-Off-Peak tickets, Season tickets, Rover and Rangers tickets…
Travel information for your train journey
Route Lille to London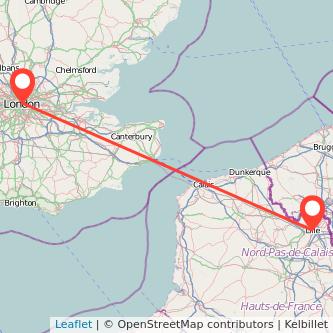 Train duration

1h28m

Arrival city
London, England
Departure city
Lille, France
Distance

152 Miles

Lowest train ticket price
from £49

.00

Train operators for Lille to London
Eurostar, TGV
The route between Lille, situated in France and London, which is in England is well connected by trains. The trains are run by the following rail companies: Eurostar, TGV.
There are 152 miles between the two cities and the average journey time between Lille to London is normally 1h28m. Travelling by train is most of the time the fastest way to travel to London from Lille, and it's also more environmentally friendly than driving your car or flying.
The cheapest ticket price we've found to travel in the next month is £49.00 one way.
Lille - London: the best time to book cheap trains
Price of the ticket when booking in advance or at the last minute
Days before Departure
The graph above illustrates the cheapest prices found over the last 6 months depending on how many time in advance the ticket is purchased. Booking your train from Lille to London in advance can help you pay less for your train.
We found tickets available from £49 when buying your train 2 months in advance, it is 71% cheaper than the best fare we found when booking on the day you're travelling.